With consumers' eyes now wide open to the environmental emergency facing our planet, those who fail to deliver sustainable products and business practices could soon become extinct.
Retailers, brands, manufacturers, transport firms – indeed, all businesses that factor into the retail ecosystem – are under pressure to transform the way they operate in order to become greener and more ethical, and provide greater transparency.
What this all means for businesses is the topic of a major new report from Retail Week, Doing Good is Good for Business, produced in association with IBM.
"45% of UK consumers were more concerned with the environment than a year previously"
The report underlines the fact that, in 2018, 45% of UK consumers were more concerned about the environment than they were a year previously. A growing number are shopping with new retailers as a result. And the trend is even more pronounced among millennials and Generation Z.
The businesses leading the way
While the wider industry grinds into action, businesses such as Unilever have forged a path for others to follow. The consumer goods giant launched its Sustainable Living Plan back in 2010. And it reported in 2018 that its Sustainable Living brands were growing 69% faster than its wider portfolio, delivering 75% of overall growth.
In July of this year, Unilever announced it was focused on discontinuing brands that "do not contribute positively to society", with chief executive Alan Jope naming just 28 brands out of its 400 that are ahead of the sustainability curve. Those not named included Marmite, Magnum and Pot Noodle.
"In 2018 Unilever's Sustainable Living brands were growing 69% faster than its wider portfolio, delivering 75% of overall growth"
Meanwhile, Adidas is among the brands raising the bar on sustainability by taking it right down to the product level. Recycled polyester currently accounts for 46% of Adidas apparel, with the target that from 2024 onwards only recycled polyester will be used, both in products and within the wider supply chain where it is feasible to do so.
Most recently, Adidas has partnered with Stuffstr, whose technology platform allows customers to sell back unwanted clothing for store credit, regardless of condition, creating a closed-loop, circular-economy solution.
These are the sustainability strategies of just two businesses we highlight in the report.
The overwhelming message is that consumers want to feel like they are doing their bit by buying into brands with purpose.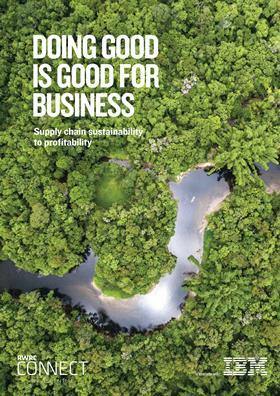 Download Doing Good is Good for Business today to discover:
Why retailers need to act now when it comes to sustainability
How to tell your brand's story, incorporating renewed green credentials
The evolving tech driving change in sustainability measures
Why greener practices throughout the supply chain are key
The retailers going above and beyond to tackle the climate crisis.

UK entry point to information on business solutions, security solutions and storage solutions.