Marks & Spencer is closing company-owned businesses in 10 foreign markets, but boss Steve Rowe says it is not turning its back on international opportunity.
Instead of running its own operations abroad, M&S will in future work with local partners, particularly franchisees.
There is clear financial logic to Rowe's decision. Last year the franchise business, which comprises 267 stores in 34 markets notched up profits of £87.3m.
In contrast, company-owned businesses in the countries being exited racked up losses of £45m.
"We must have a sustainable business with the opportunity for growth in future," said Rowe in explanation of the new direction.
M&S reported: "We will use our local market customer insights to build a more sustainable international business by focusing on improving our customers' experience and driving profitability."
M&S's franchise partners include giants such as Al-Futtaim in the Middle East and Turkish group Fiba, which runs stores in Russia and the Ukraine as well as its home market.
M&S will also continue to sell online to the 21 countries it does so at present through its own local websites, on marketplaces such as Zalando and with franchisees.
International online sales however are understood to be a fairly small proportion of the total.
Overseas retreat
Over the years M&S has flip-flopped on overseas operations.
It famously retreated from Europe in 2001 under the leadership of Luc Vandevelde.
That decision was regarded as a mistake by Sir Stuart Rose who went on to spearhead an international franchise store push in 2006.
The explicit ambition of Rose's successor, Marc Bolland was to turn M&S into an "international, multichannel retailer". He took M&S back to Paris with a high-profile opening on the Champs-Élysées in 2011.
However he could not have foreseen overseas crises such as the recession which led to the near collapse of the Greek economy, or war in the Ukraine that threw plans off course.
Now Rowe is trying a new tack, at a cost of between £150m and £200m mainly in redundancy and property costs.
Canaccord Genuity analyst David Jeary is pleased by the change to the international business model, which he describes as a "necessary and welcome shake-out".
But he also strikes a wry tone. He says: "While management insists that the group's international divisional strategy is a "correction" rather than a "withdrawal", history does show a remarkable affinity with the in, out, shake it all about of the Hokey Cokey."
He concludes: "The prime focus on the more profitable franchise model is both sensible and welcome, although the necessary complications mean that investors will have to wait until [2019] to fully recoup operating losses."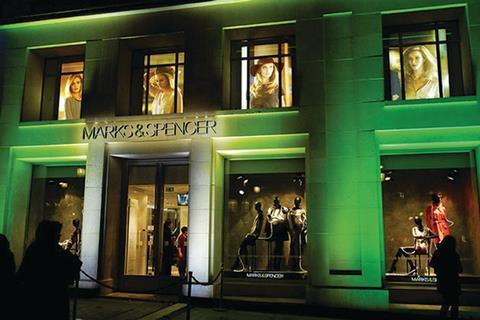 Mitigating losses
Retail Week Prospect senior analyst Rebecca Marks says: "While it is logical for the business to exit its loss-making, non-sustainable markets which are predominantly wholly-owned, it's also quite clear that Steve Rowe is looking at where he can mitigate any losses across any part of the business to protect its profitability which continues to plummet.
"So it is not entirely clear whether Rowe is thinking of the longer-term effects of this move or whether his motives are driven by a potential quick turnaround in profit safety instead.
"Nevertheless, franchise, especially for entry into new markets, will prove beneficial for M&S as it has the experience and understanding of that customer, and M&S can leverage its local expertise, which the business evidently needs when it finds it difficult to even get that right for its domestic market."
Rowe's decision means it is adieu to France, where it returned with much fanfare, from an own-store perspective.
M&S will continue to build its franchised food business in the country however.
Leaving China
It is also goodbye to China from the 10-store bricks-and-mortar retail perspective – perhaps a surprise in a big market in which other international retailers are also keen to grow.
M&S has made a number of attempts to crack the Chinese market but low brand recognition and lack of scale have been problems. The retailer however trades online in China through Tmall and JD.com, and will continue to do so.
In the greater scheme though, important as getting international right may be, it is at present a sideshow.
As Liberum analysts Tom Gadsby and Adam Tomlinson observe: "The fortunes of M&S will stand or fall by the performance of the core UK clothing business, and the outlook for that remains highly challenged."
M&S waves goodbye to…
Belgium (1 store)
China (10 stores)
Estonia (2 stores)
France (7 stores)
Hungary (6 stores)
Lithuania (1 store)
Netherlands (2 stores)
Poland (11 stores)
Romania (6 stores)
Slovakia (7 stores)