Vue International boss Timothy Richards will speak at Retail Week Live this year. We look at what lessons retailers can learn from the cinema firm.
Despite only being founded since the turn of the millennium, Vue International has become one of the major players in British cinema.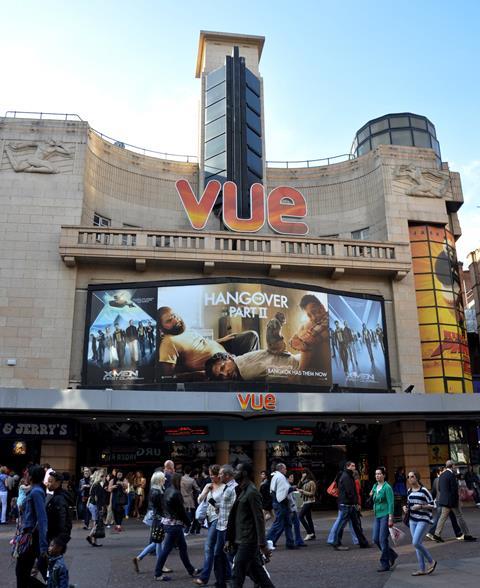 From creating and leveraging its distinct branding to increasing its focus on events and experiences, Retail Week analyses five lessons retailers can learn from the business.
Leverage the power of the brand
Formerly known by the less catchy name of SBC International Cinemas, the company underwent a radical rebrand when it acquired Warner Village Cinemas for £250m in May 2003, becoming Vue.
It's shorter, snappier name and brighter, more modern logo mirrored the company's forward-thinking approach to cinema screening and allowed it to build an instantly recognisable brand.
The firm has drawn on its brand name to creating the innovative 'VueXtreme' and 'Vue Scene' viewing propositions as part of its drive to enhance the customer experience.
Scandinavian retailer Tiger recently rebranded its UK stores under the Flying Tiger Copenhagen fascia, bringing it into line with its operations in other countries to enhance global brand awareness.
Similarly, Capital Shopping Centres rebranded to Intu in February 2013, providing it with a brand name it could attach to its malls both in its UK homeland and overseas.
While such a radical rebrand may not be an option for the majority of retailers, Vue offers a case study in how to leverage the brand name to promote its proposition and build a customer base across continents.
Hit the acquisition trail to grow the business
Having been formed as the result of an acquisition, Vue has not shirked away from further opportunities to buy out rival firms.
Merely two years after its birth, Vue snapped up the Ster Century chain, which included the Liffey Valley Shopping Centre in Dublin, the highest grossing cinema in the UK or Ireland.
In 2012 it acquired Apollo, a deal that saw it take ownership of 14 sites across the UK and become the third largest cinema company in the country behind Odeon and Cineworld.
The following year it bought Polish operator Multikino, taking on its 30 cinemas across Poland and other Baltic countries, and by 2015 it had purchased JT Bioscopen, the second largest cinema chain in the Netherlands.
Like Vue, JD Sports has turned to acquisitions to expand its global reach.
The sportswear business has snapped up existing chains in the Netherlands and Australia over the past year in order to propel its international sales.
Enhance the customer experience
Vue prides itself on delivering a high-quality, unique customer experience as it bids to drive loyalty in a hugely competitive marketplace – a scenario retailers are all too familiar with.
The firm has invested in 4K screens across its estate and even offers its VueXtreme supersized screens – measuring 16m x 7m – at some locations.
It offers VIP tickets, which give customers a wider chair in prime viewing spots with extra leg room, while some screens also have a reclining padded leather chair option, adding further comfort to the experience.
Vue Scene takes the customer experience up another notch, letting customers order alcohol at a private bar, check in their coats at the cloakroom and relax in a padded leather seat with extra leg room while they watch the film.
Welcome all customers
Vue has implemented a number of initiatives over the past few years at it strives to attract a wide demographic of customers.
The company works closely with local communities, including religious groups and churches across the UK, to offer group bookings and private screenings.
It also hosts special 'senior screenings' for over-60s only and 'mini mornings', which run every Saturday and Sunday morning and every day in the school holidays, with an adult or children's ticket for just £2.49.
Since 2013, Vue has also offered monthly autism-friendly screenings at cinemas across the UK, in association with not-for-profit organisation Dimensions.
Vue's rivals Odeon and Cineworld are also part of the group's Autism Friendly Films scheme.
A number of retailers are piloting similar initiatives as they open their doors to marginalised demographics.
Last August, Sainsbury's became the first retailer to trial a slow shopping concept for elderly and disabled customers, while Toys R Us has introduced a 'quiet hour' to cater for autistic children.
Create events and experiences
As retailers step up efforts to create experiences and drum up a sense of 'retailtainment' within their existing store estates and innovative pop-up formats, many could take a leaf out of Vue's book.
The business was among the first non-gaming companies in Britain to jump on the fast-growing esports bandwagon, by converting part of its cinema in Fulham Broadway into the UK's first dedicated online gaming arena.
Vue joined forces with esports specialist Gfinity to transform part of the south-west London site, equipping it with three custom-built stages and enough room to house 600 gaming fanatics.
Players from around the world now descend on the venue on a near-weekly basis to compete for prize pools worth as much as $100,000.
Video gaming retailer Game has employed a similar strategy in an attempt to tap into consumers' increased tendency to spend money on experiences rather than products.
Having acquired Multiplay, which owns esports events including the Insomnia festival, Game is now rolling out dedicated gaming arenas in its stores, creating a new stream of revenue for the business.
As supermarkets and department store chains in particular look for more creative ways to use their space, Vue's approach could provide a blueprint.
Vue International chief executive Timothy Richards will be on stage at Retail Week Live, the UK's premier festival of retail and consumer commerce, taking place in London on March 8-9, 2017.
The event attracts over 1,200 retail chiefs and leading business personalities who gather to experience the unique combination of networking, inspiring content, strategic thinking and innovation.
To book your ticket visit: www.live.retail-week.com