The collapse of a building housing suppliers of well-known retailers has ignited debate about the responsibilities of businesses working with firms in developing countries.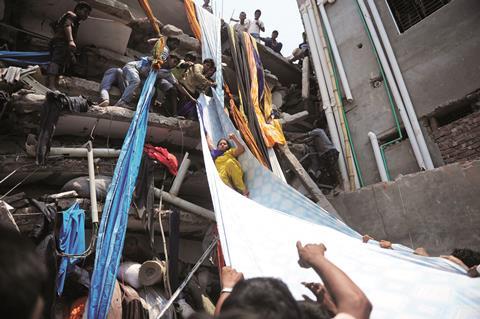 The horrifying collapse last week of the Rana Plaza building near Dhaka in Bangladesh has prompted soul-searching among retailers and more widely.
More than 380 workers at the eight-floor building, which included premises that have supplied retailers such as Benetton, Bonmarché, Primark and Canadian retailer Joe Fresh, have been confirmed dead and the death toll has risen by the day.
The tragedy came just months after a fire in the same region at the Tazreen Fashion factory claimed more than 100 lives and hammered home that despite so much progress in ensuring the wellbeing of people working in the retail supply chain in the developing world, more needs to be done.
Primark, along with Canadian retailer Loblaws, which operates Joe Fresh, and Matalan - which had not been using any of the suppliers but had ordered from there in the past - have pledged financial support, but some retailers were slower to react and seemed not even to know they did business with factories based in the building
Above all, the tragedy serves as another wake-up call that workplace safety standards must be raised across Bangladesh's garment sector, according to Ethical Trading Initiative (ETI) director Peter McAllister.
"There is a link between Spectrum [factory collapse in Bangladesh in 2005], Tazreen and this collapse," says McAllister. "It shows the chronic state of the Bangladesh garment sector and the lack of enforcement of building and fire regulations. Spectrum should have been a wake-up call but this is the final straw. We need to drive change."
Building specifications
Bonmarché, which had some of its woven bottoms subcontracted to New Wave - one of the largest suppliers based in the collapsed Rana Plaza building - said that the disaster has brought supply chain processes into "sharp focus".
The retailer said: "While we have always implemented processes in line with or exceeding industry requirements and standards, there are lessons to be learned from this event right across the retail sector."
Primark said it was "shocked and deeply saddened" by the collapse and, as a result, will push for a review it had already been conducting with other retailers and NGOs of Bangladeshi factory standards to also include
building integrity.
That will be something new for many retailers and will bring particular challenges. "Most UK-based companies are on top of basic health and safety such as sanitation and working hours, but they would not focus on infrastructure and whether the building is built to specification," says Amanda Aldridge, supply chain and risk partner at KPMG.
British Retail Consortium spokesman Richard Dodd said that such checks are at present the responsibility of building owners and law enforcement officers. That might change in the wake of the Bangladesh collapse. "There are important questions to be asked about what's included in ethical trading codes. Perhaps some adjustment is needed," he says.
McAllister says there is a shared responsibility between retailers, building owners and government. He says: "International brands sourcing from these countries know the conditions there, and need to do a lot more to make sure that the factories they are sourcing from meet standards, are well built, properly inspected, have fire escapes and are treating workers properly."
Although fire and structural checks are not generally part of retailers' audits of buildings, McAllister believes that in a country such as Bangladesh they should be, and experts should be sent out to conduct their own safety checks.
Campaign group Labour Behind the Label is pushing retailers to sign up to the Bangladesh Fire and Building Safety Agreement. However, so far only Calvin Klein and Tommy Hilfiger parent PVH and German retailer Tchibo have signed.
Primark is seeking an agreed methodology for testing the integrity of buildings where there are multiple factories on multiple floors with different tenants. "It is not easy to agree how this will be achieved, but this is what the company is seeking and it will ask the ETI to look into this issue," a Primark spokesman said.
Image crisis
It is no coincidence that two health and safety disasters have occurred in the same Bangladeshi region over the space of months, some maintain.
A spokeswoman for Labour Behind the Label says: "The rapid expansion of the garment industry in Bangladesh has meant that unsafe factories are built quickly on swampland without any proper building regulations in place.
Sadly, there are more tragedies such as this one waiting to happen unless something is done now."
Garment production is worth $20bn (£12.92bn) annually to Bangladesh but the country faces competition from emerging markets such as Cambodia, Laos and Myanmar.
"Exporters are under pressure to cut their margins. As a result they skimp on safety, and the government turns a blind eye. Even though there has been a labour rights violation it's not likely to change," fears ArvindRamakrishnan, principal analyst at risk consultancy Maplecroft.
However, with four factory collapses in seven years, the country is now facing an image crisis and, according to Aldridge, many retailers are already considering reducing exposure to the country, where the divide between rich and poor, political unrest and corruption are long-standing concerns.
Supply chain awareness
The Dhaka collapse also serves as a warning to retailers about the importance of managing the entire supply chain, including subcontractors.
Italian clothing retailer and brand Benetton at first denied sourcing products from New Wave Bottoms, which was housed in the collapsed building. However, when garments bearing its label were found in the rubble, Benetton admitted a "one-time order".
"Many retailers couldn't tell you who actually supplies them," partner at corporate social responsibility specialist 4Front Consulting Kate Heslegrave cautions. "Retailers still hold the ultimate responsibility for suppliers' indirect action in the consumer's eyes."
Aldridge says that although many retailers have the right to visit tier-two factories - those that deal directly on sub-contracts - with the main contractor, written into supplier contracts, few are audited. She says that mainstream retailers should take a leaf out of the book of luxury groups in controlling their suppliers. She says: "There is a really tight grip in luxury goods. They are so concerned about the grey market that they have a tightly controlled list of subcontractors and audit them regularly. They also have far more near-shore supply."
Retailer ethical codes
Retailers must also take action to ensure their own ethical codes of practice are adhered to. Ramakrishnan says that very public statements must be made - such as delisting, which retail giant Walmart has vowed to do with suppliers that violate its standards to send out a message that health and safety is of utmost important.
However, McAllister says that delisting suppliers is not the answer. "We've been investing there for the past 20 years, we've been implicit in creating this situation. You can't put the onus on a country that has weak structures and process. We need to help create the mechanisms to drive change."
The ETI is working to create an international agreement to help make that happen. By May 15 it aims to have an agreed set of safety principles for Bangladeshi supply that it aims to get companies to sign up to.
"If we look back in two to three years and there is another tragedy - which undoubtedly will happen - and we can't say we've done all that we can to change this, it will be a sad indictment of our industry," concludes McAllister.
ASDA'S GEORGE INVESTS IN TRAINING PROGRAMME
One multinational retailer has stepped up its efforts to improve conditions in Bangladesh. Asda's own-brand fashion label George first piloted its 'Lean' manufacturing programme in 2009 across four factories.
It was designed to retrain workers, increase wages, improve production flow, reduce product damage and downtime, and change the way it plans commitments to factories.
Following a successful pilot, the retailer last year rolled the model out to more factories, which nowaccount for 63 million units a year and 62% of garments sourced from the country.
Improving worker welfare
In its Doing the Right Thing report update, Asda said that efficiency gains had allowed one George supplier to invest in a completely new factory and that, despite preconceptions that efficiencies would bring job losses, no worker became unemployed as a result.
For George, the programme allows products and procedures to be standardised, allowing buyers and sourcing teams can be more efficient. Over the next three to five years, the retailer aims to train and accredit a minimum of 10,000 workers via the George Supplier Academy training programme.
George has committed to a number of initiatives to improve worker welfare as part of the programme. As part of its "sustainable approach from factory to wardrobe" the retailer has helped to educate and offer childcare for the children of workers, empower women in its supply chain and fund vocational training for adults.
Asda said in its report: "Lean is empowering workers in a positive way. Many of them have never received this type or quality of training before and have said they feel far more valued as a result of the development opportunities provided through the programme.
"While we have seen great successes in our programme, we recognise that it is not for everyone. Lean is a holistic programme with regards to factory transformation and relies heavily on the engagement and support of suppliers' senior management."