From eBay and Rakuten to Amazon and Asos, marketplaces are becoming a central part of retailing in the UK. Tamsin Brown takes a look at how they are evolving.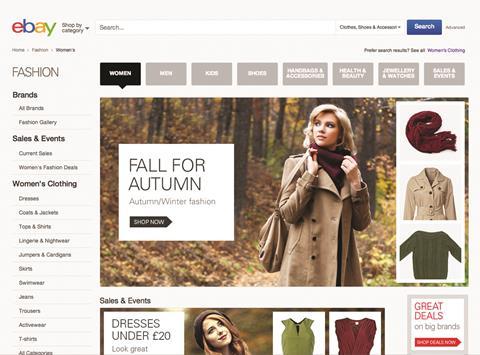 The sale of a broken laser pointer hardly sounds like the most promising of starts to a new retail venture, but that is how the story of eBay began.
In 1995 computer programmer Pierre Omidyar was about to throw the item away but decided to post it on his new auction website. To his amazement it was snapped up for $14.83 by a collector. Fast forward to 2013 and the site has a global customer base of 233 million and online marketplaces have revolutionised the way people buy, sell and dispose of goods.
In the past, if someone had old clothes they wanted to get rid of their first stop would be the local charity shop. But today there is a raft of websites that allow people to sell vintage clothes, or that dress bought last season but never worn.
Those who create handmade products no longer need to rely on craft fairs and word of mouth. Online marketplaces such as Etsy mean both individuals and businesses can set up an online shop on a third-party platform and market their wares to people all over the world.
As more and more brands sign up to marketplaces, they are becoming an increasingly central part of the overall retail industry and constantly evolving as platforms attempt to keep up with consumers' changing demands.
Shoppers these days want to be able to browse while they are on the move, using smartphones and tablets, and are using social media and sharing sites to guide them on their purchases.
So who are the key players in the online marketplace world, how have they developed over the past year or
so and what are the main drivers of their growth?
At 18 years old, eBay is arguably the granddaddy of marketplaces but it is still firing on all cylinders. Revenues through its marketplaces were up 10% to $2bn (£1.26bn) in the three months to the end of June, and 3.5 million new users came on board during the period.
Tanya Lawler, UK vice-president of eBay, says the way people shop on the site has been transforming at breakneck speed over the past year as mobile shopping takes off. More than 4 million customers joined eBay from a mobile device last year.
She says: "Led by mobile, a commerce revolution is under way. Shoppers want convenience, speed and choice - they want to shop any time, anywhere on any device and as an industry we have to respond to how they shop."
Bid for convenience
Consumers are demanding faster delivery times and eBay's answer has been eBay Now - a service that delivers local products in about an hour for a charge of $5 (£3.14) an order.
At present it is only available in certain US cities but the business announced recently that eBay Now would launch in London at the start of next year.
Shoppers also want more convenience when it comes to the delivery of goods and eBay struck a trial deal with Argos last month that means its customers can pick up packages sold by 50 of its bigger merchants at 150 of the retailer's stores across the UK.
Click-and-collect is expected to experience tremendous growth in coming years - analysts at Verdict predict it will increase in value by 62.7% between 2013 and 2018.
Amazon, another giant in the sector, has also sought to respond to shoppers' demands for an easier delivery option with its Amazon Lockers and the Collect+ service. Unlike eBay, Amazon is a retailer with an online marketplace but this arm of its business - launched in 2000 - is becoming increasingly important. It has more than 2 million active seller accounts worldwide and about 40% of its sales are reported to come from third parties.
Japan's biggest online marketplace Rakuten stepped into the UK in 2011 when it bought online retailer Play.com for £25m. The site used to be focused on gaming and media products but now hosts 3,000 merchants selling everything from clothes to toys and books.
Earlier this year it became a pure online marketplace after it stopped selling its own stock. Now it no longer competes with its sellers and prides itself on the relationship it encourages its merchants to build with their customers.
Shingo Murakami, managing director of Rakuten's Play.com, says marketplaces will need to develop into a more human service: "Many marketplaces are all about providing a transactional service but now merchants and retailers are hungry for an alternative. They want direct connections with the consumer and an opportunity to differentiate and build loyalty based on something other than just price."
Play.com now offers a loyalty scheme that allows shoppers to earn SuperPoints on anything they buy across the site, which can be used to pay for their next purchase.
Creative growth
There is also a growing number of online marketplaces selling handmade and vintage goods. US business Etsy is perhaps the best known and is popular among users for the personal information it provides about sellers and the direct contact a buyer has with whomever they buy a product from.
Founded in 2005, the site has 18 million listings - from cakes and tables to shoes and wedding dresses - and its global community has grown to 30 million after it added 10 million new members last year alone. The company started in New York but now a third of its transactions include a non-US buyer or seller and last year it grew by 93%
in Europe.
It too has found it has had to evolve to meet the changing needs of its buyers and sellers. This month it overhauled its policies and found itself having to stretch the definition of handmade as it sought to deal with the problem facing sellers whose businesses had grown since using the site.
From the start of next year its sellers will be allowed to hire staff, use someone else to ship their goods and apply to sell items produced with manufacturing partners.
Chief executive Chad Dickerson said at the time: "We know that defining handmade as authorship, responsibility and transparency may not match your personal definition but these are the values we see Etsy sellers living every day."
Other sites in the creative space in the UK include Folksy and Notonthehighstreet.com, which is more selective about who uses its platform.
Asos is among the few UK retailers to have launched its own online marketplace. Three years since it went live, the Asos Marketplace features 150,000 products from 600 boutiques and tens of thousands of individual sellers.
Asos director James Hart, who has recently revealed he is leaving the business, says the platform was developed so that Asos could bring its customers all the fashion that they were interested in, including vintage pieces and those from emerging designers who didn't yet have the volumes to sit on the main Asos site.
He says: "If Asos is going to be the place you go to from a consumer perspective, then we also want it to be the place to sell fashion".
Asos plans to integrate the marketplace into its main website over the next 18 to 24 months so that consumers only need to perform one search.
Social media drive
Tesco is also developing its answer to the online marketplace. It launched Sellers at Tesco last year and now sells 200,000 products from 36 third-party sellers, including Mamas & Papas and Barratts, home ranges from Villeroy & Boch as well as sports and leisure brands such as Mountain Warehouse and NordicTrack.
A third of its sellers offer a click-and-collect service and customers earn Clubcard points when they buy products from Sellers at Tesco.
New players are still coming to the market. A UK-based online marketplace called OnBuy plans to launch next month with a strapline 'The British Marketplace' and will sell a wide range of products from electronics and technology through to craft and handmade items.
Whether they are accomplished pure-play online marketplaces or physical retailers finding their feet, all players have been kept on their toes by the change in the way that people are shopping online. A big driver of sales has been the growth of 'discovery shopping', which involves shoppers being driven to buy through social sharing sites such as Pinterest based on recommendations from crowd communities.
Rakuten's Play.com has seen traffic coming from Pinterest leap 200% year on year. Social media, meanwhile, drove about £2m of its gross merchandise sales last year.
Murakami says: "Research from Rakuten's Play.com shows that shoppers who engage with the brand on Facebook go on to spend about 24% more on the site. These sales that are directed through Facebook to Rakuten's Play.com are growing rapidly with year-on-year sales through the platform up 80%."
Online marketplaces are effectively evolving into virtual shopping centres or high streets with shop windows, with increasing interaction between customers and vendors, loyalty schemes and even the social and fun element of physical shopping being provided by the likes of Pinterest. They are allowing even tiny businesses and individuals to have a shop window without the crippling cost of rent.
The heady pace that this sector has developed since the early days of eBay makes it hard to imagine what the next decade will hold. But without doubt online marketplaces will become an increasingly important part of the retail landscape - those without their own marketplace may want to think creatively about how to get involved.
Lessons from the marketplace
What can traditional retailers learn from online marketplaces?
The use of smartphones and social networking sites in shopping on online marketplaces underlines how important it is for all types of retailers to keep on top of the changes in digital shopping.
Tanya Lawler, UK vice-president of eBay, says smart retailers are innovating and using mobile and other technologies as a way to engage with customers.
She says: "They see web-enabled omnichannel retail as less of a threat and more of an opportunity."
Argos believes pairing up with a pure online player is the answer, and eBay has said other retail partners with a click-and-collect capability will be able to offer a similar service to customers eventually.
But Verdict analyst Matt Rubin has concerns about whether the click-and-collect deal with eBay could cannibalise Argos' sales if similar products were sold.
He says: "It is clear that the online pure-play giant stands to gain more from this deal."
Experts say retailers will have to face the dilemma of whether they should jump on board like Asos and Tesco and launch their own platform.
David Oliver, multichannel retail partner at PwC, says: "One point of view is, as the whole marketplace evolves, all traditional retailers will have to decide whether they are a brand or whether they want to be a platform but there won't be a lot of space for anyone between the two."
He says this is already evident in the pressures on retailers that don't have their own unique products, as margins are progressively squeezed.
"I think big high street general merchandise retailers do have to have a competitive strategy to the marketplace," he says.
For all the bigger grocers it would make sense to at least consider a marketplace even if they didn't label it as such, he believes.
Oliver says: "A lot of the bigger retailers are starting to do drop shipping. And the more they do that the more they edge towards the marketplace."