The retailer has embarked on a range of multichannel initiatives. Rebecca Thomson speaks to the man driving change, Simon Forster.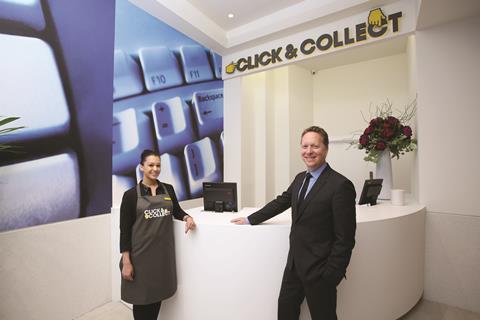 Selfridges is famous for its agenda-setting store retailing - it's hard to beat the Oxford Street flagship's windows, range and merchandising and it regularly tops polls of other retailers' favourite stores.
But the department store group, which also has shops in Birmingham and Manchester, hasn't yet embraced multichannel with gusto. Now that multichannel director Simon Forster has been at the retailer for five months, this is all about to change.
"Customers don't differentiate by channel at all," he says. "This is a fantastic opportunity to extend this brand online."
The retailer has started with click-and-collect, having just launched a next-day service in its stores, and there are big plans for the coming months.
At the beginning of next year it will launch a drive-thru click-and-collect service at the flagship, using forecourt space off the side of the store, although details of how it will work are not yet finalised. And in August it will begin an online international push, introducing overseas delivery in Europe first and eventually expanding the service to 54 countries including China. Forster says a fifth of Selfridges' online visitors come from outside the UK.
There are also plans for an overhaul of the home delivery offer, with a text service to make its debut in June.
Couriers will be able to text customers to arrange a delivery time, and shoppers will be able to respond.
Although Selfridges is relatively late to the multichannel game Forster says that, far from being on the back foot, the delay is an advantage. He observes: "Selfridges has only had a transactional website for three years, and a lot of retailers invested in multichannel before that.
"But that gives us a great advantage, the opportunity to look at what different offers there are in the market, and what we are seeing customers engaging with."
Watching the market
Such careful consideration of what's been happening in the market means the retailer is now in a position to move quickly, Forster maintains.
"We've been able to consider what's been happening, and what is important for our customer. We're not throwing something out there and seeing what happens. There's been a lot of thought."
The new click-and-collect service will allow customers to order online by 4pm and pick up their goods the following day from 9am. Anyone driving to the London store to collect an order will get 30-minutes' free parking, and Forster says the service will also be particularly helpful for customers outside the capital.
"We have seen a large online customer base which accesses the Manchester and Birmingham stores," he points out.
Forster says there are no plans for smaller click-and-collect stores, which House of Fraser has opened successfully in Liverpool and Aberdeen. But the retailer will consider that and other ideas in the future. "Currently the majority of our online customers are by and large within driving distance of our stores. In the future I would expect we would want to be able to consider other distribution points." He adds that click-and-collect is expected to account for at least 25% of online sales.
Concurrently with click-and-collect, the retailer has worked on developing its online offer. The focus has been on developing a range of 'edits' of products - the 10 best dresses of the week, for instance - and on making sure
customers can find the detailed information they need. The aim is to provide good service online, as well as engaging people.
"Bringing the brand to life online is about providing edits of products and advice," he says. "It's about 'what does Selfridges advise me to have?' in the style of a personal shopper."
Future projects
Although there are several projects to get off the ground in the coming months, Forster won't be giving the multichannel team much of a break after that. Once the present plans are in place, there are more projects in the offing.
"A large part of where we will be putting our focus is how we bring online in store," he says. "The next raft of initiatives will all be around that."
In-store kiosks and mobile projects will all be considered, and Forster says one of the main benefits of such technologies will be extending the range in the smaller stores.
But what's important, he says, is that Selfridges remains flexible in its response to changes in shopping habits and technology.
"Retail isn't about doing something and leaving it. It's about consistently thinking about what's different, and evolving all the time."
He emphasises his approach is retail-led, not technology focused. "Multichannel is not about technology - it's about the customers, and about being a great retailer.
"The technology is just a means to an end. If you ask customers if they want staff to have iPads, they'll say no.
But if you ask them if they want to be able to check out anywhere in store, they'll say yes. Our customers are not particularly interested in technology, they're interested in what it does."
Across retail, customers have proved keen to use mobile in store - showrooming is a growing challenge for many.
Forster says the trend is an issue for everyone, but says that Selfridges' brand is what will protect it. "What will differentiate you ultimately is the strength of your brand and whether you're providing a fantastic experience and your prices are competitive. Customers will come to you because of the brand," he says.
Having led the way in department store retailing for decades, Selfridges is now on the way to forging a new path through a digitally led environment. It may not be the first to put many of these initiatives in place, but its ideas are still some of the more advanced in retail at the moment.
Multichannel plans
Next-day click-and-collect service at stores.
Increased depth and detail of online content.
Launch of drive-thru click-and-collect early next year.
Online international push will start in August, beginning in Europe and eventually encompassing 54 countries including China. A fifth of the retailer's online traffic already comes from outside the UK.
Selfridges is poised to overhaul its home delivery service by enabling shoppers to text couriers and
arrange a specific, convenient time for delivery.