Just 15 months after video game specialist Game plunged into administration, chief executive Martyn Gibbs is feeling positive about the future.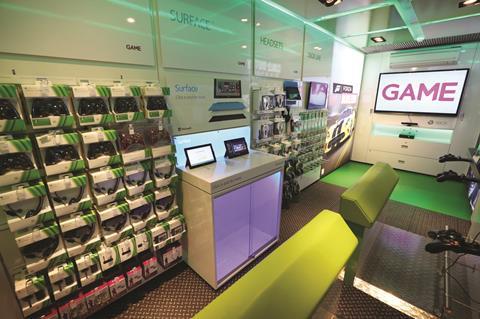 Gibbs forecasts EBITDA of £20m in its current year.
The stellar selection of new generation consoles due to hit the market over the next year should boost Game's hardware and software sales.
Gibbs is trying to make sure that happens and opened the UK's first dedicated Xbox store last week - a joint venture with Microsoft that made its debut in east London's Boxpark. The store - the first Game has created for a particular console brand - stocks the recently released, redesigned Xbox 360 console, as well as Microsoft's Surface tablet.
The tie-up with Microsoft is in stark contrast to Game's predicament in early 2012, when crucial suppliers including Nintendo and EA refused to supply the retailer, leading to its administration.
However, Game had been struggling for some time prior to that. Sales had been in constant decline since 2009/10 and plunged 12% in its year ended January 2012. Difficulties were evidenced by a 15.2% nosedive in like-for-likes in the UK and Ireland over its key Christmas trading period in 2011.
The retailer suffered in the face of fierce competition from supermarkets and Amazon, leading to increased discounting.
The cyclical nature of the games market also makes life challenging for specialist video game retailers, which are at the mercy of developers creating the next must-have product. The market is in constant transition between consoles, which can plummet in price after just a year or two.
Game's UK operations were acquired out of administration by investment firm OpCapita in April 2012. The retailer has since changed tack to overcome challenges.
It has focused more heavily on pre-owned hardware and software, which helped to protect margins and differentiate its offer from supermarket rivals.
Back in 2009, pre-owned merchandise accounted for 18% of Game's sales. Over a shorter timescale in 2012 it had soared to 41.8%.
OpCapita drafted in former Halfords chief executive David Hamid as chairman, as well as Gibbs, when it bought the retailer. The latter had significant games industry experience and previously did stints as managing director of both Game and Gamestation, the chain that Game acquired in 2007 and rebranded to its own fascia.
Under Gibbs, Game's strategy focuses on capitalising on customers' loyalty to the brand, which has included relaunching its reward card. As the only major video game specialist retailer in the UK, Game needs to differentiate itself from both supermarket and online rivals by creating a sense of community, ramping up its in-store events such as midnight launches of high-profile games, and develop inspiring store environments such as its Xbox shop. That is something that Gamestation had been known for.
Digital will undoubtedly play an increasing role in Game's future. The retailer had a 13% share of the UK online games market in 2010, which rose to 18% in 2011. No figures have been given since then but the new management team has said that improving the multichannel proposition is a key strand of the turnaround plan.
Little can be drawn from Game's first set of results under OpCapita, because they covered just four months to July 2012 and did not include the key Christmas trading period. However, management said that it had restored its like-for-like market share. Given that the retailer emerged from administration with just over half of its vast 609-store estate, that is no mean feat.
However, the games market faces challenges. Trade magazine MCV predicted that the UK video game market, comprising hardware, software and accessories, declined to £2.9bn in 2012, down from £3.3bn during the previous year.
In the short term, the retailer may benefit from the slimming down of competitors HMV and Blockbuster following their administrations earlier this year.
However, more innovation such as the Xbox store may be needed for Game to go to the next level and regain control of the video game market.
Top scores
Owner OpCapita
UK stores 331
Sales £93.3m (for the four months to July 2012)
Pre-tax loss £18.2m
Chief executive Martyn Gibbs
Chairman David Hamid