Morrisons is finally launching in online grocery in partnership with Ocado. But while it will have a running start, the details of the deal are giving analysts food for thought.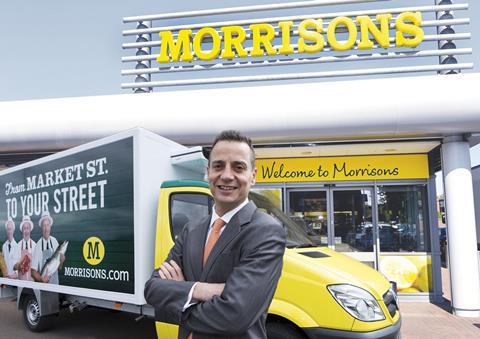 Morrisons.com is starting life fully grown," said Morrisons chief executive Dalton Philips, after last week inking a deal with Ocado that will enable the Bradford grocer to launch online by January 2014.
But even if Morrisons online grocery business will begin life mature, the process to reach this point has been more akin to a slow evolution. Morrisons paid £70m for baby goods etailer Kiddicare in 2011, took a £32m 10% stake in New York etail grocer Fresh Direct to study its model, then launched wine site Morrisonscellar.com - using Kiddicare's etail platform - so the grocer could test the ecommerce waters.
However, the deal with Ocado, initially with a £216m investment, dwarfs Morrisons' previous initiatives and plants its flag firmly in the ground following years of questions about when it would enter the fast growing market.
For Philips, the Ocado deal - along with acquisitions made in convenience this year - represents affirmative action to address Morrisons' lack of presence in grocery's two fastest growing channels, which has been blamed for recent underperformance.
It buys experience for Morrisons in a complex arena where customer orders frequently feature 40 to 50 low-margin, multi-temperature items.
Under the terms of the deal, Morrisons has agreed a services and technology agreement as well as a sale and leaseback of Ocado's second customer fulfilment centre (CFC) in Dordon, Warwickshire, which opened in February. Morrisons will make an initial capital payment of up to £170m to Ocado to acquire Dordon, mechanical handling equipment and as a licence and integration fee. A further £46m will be invested to expand Dordon in order to accommodate Morrisons' range, integrate its systems and establish a network of delivery spokes. The agreement also allows for the joint development of new CFCs if the retailers decide to opt for them in future.
Philips says: "This marks a major milestone. It's a great deal for customers and shareholders."
The deal means Morrisons will be the only bricks-and-mortar grocer with a centralised order-picking model and Philips has set out clear profit targets. He claims the service will "generate positive EBITDA by 2016/17" and positive EBIT level the following year.
"It gives us a clear path to profitability. From day one we'll have 11 years of experience," says Philips. "If you want to make money, store-picking is not the way to go. For £216m we're buying £500m of capacity. That's a heck of a lot faster than any other route to market."
Deal under scrutiny
The length of the deal struck - 25 years - alongside the significant capital invested has been questioned by some in the City. Many also point out that Ocado's model has yet to prove itself because the etail grocer has yet to report a full-year pre-tax profit.
Philips says the contract's length denotes dedication to the project's success. "We're signing a long-term deal. We wouldn't be doing this if we weren't confident."
Morrisons finance director Trevor Strain adds that the absence of a break clause shows that both parties are "mutually aligning our interests over a long period". "We're serious about it, they're serious about it," he adds,
noting that the terms of the deal ensure "protections" for Morrisons such as service guarantees and exclusivity clauses.
However, Shore Capital analyst Clive Black expressed concern over the partnership's length. "We are very surprised that Morrison has entered into a 25-year agreement with Ocado.
"Morrison is paying heavily to use a still unproven platform when there are superior and proven models - Sainsbury's and Tesco for example - that could be replicated with a fraction of the capital outlay."
Philips claims the marriage with Ocado will help Morrisons crack a golden egg - growth in the Southeast. The retailer has already launched a store-based offensive in the region, opening the majority of its new supermarkets in the lucrative market and bringing its Morrisons M Local convenience fascia to the capital. But gaining access to the Southeast, and London in particular, where the ease of online grocery for cash-rich, time-poor consumers is attractive, is key for Morrisons.
Philips says the deal "turbo-charges our ability to serve customers in London and the Southeast", because the Dordon warehouse is central and therefore has good links nationwide. But as Ocado's expertise has been largely gleaned through the southern bias of its customer base, and its lauded route-planning technology will be vital in the congested region, the acquisition of a distribution centre in Warwickshire does not appear a straightforward road to this market.
However, if Waitrose's supply deal to Ocado comes to a premature end, Ocado's original Hatfield CFC might then have the capacity to reach this market at little cost.
The deal also raises a number of logistical questions. Products will be delivered from Morrisons' distribution centres - except own-label fresh food, which will go straight from the grocer's packing facilities - to Dordon, then on to regional spokes and then to the customer. If Morrisons introduces a click-and-collect service this model is likely to be altered to shorten the supply chain.
Online, Morrisons will also have to decide whether to move over existing operations built on one platform - Morrisonscellar.com, Kiddicare and, potentially, its tie-up with Lakeland - built by Kiddicare to an Ocado platform or run them separately, potentially with cumbersome separate baskets.
Ocado adapts its model
For Ocado, the deal with Morrisons has been seen as a masterstroke. Just two months after joining the board, new chairman Sir Stuart Rose, along with chief executive Tim Steiner, has inked a deal that both secures the etailer's long-term future and vindicates it model, making its technology potentially attractive to other retailers around the globe. Rose is reported to have made £1.5m from the deal, more than his annual salary while at Marks & Spencer.
Steiner tells Retail Week the deal is a landmark in Ocado's history. "It is going to transform our balance sheet and will enable us to invest in the business and improve the platform," he says. "It is also a validation of our much-challenged business model. The first stage of monetisation on intellectual property will also help immediate profits because it will move research and development faster, with investment driving greater growth."
Steiner has fought hard to defend the business model he devised in 2000 and justify the investment made in Dordon, which was the main purpose of Ocado's 2010 initial public offering. The deal will feel like the hard work has paid off. Ocado is poised to transform from food retailer into a food and technology supplier with a retail arm.
The agreement will allow the etailer to invest in a third CFC - likely to be in the Southeast - for which it will scout locations next year. It will also allow Ocado to pursue further deals on its intellectual property overseas as
well as "tighten up prices", invest in marketing and expand the non-food business in the UK, potentially through a deal with another retailer.
Oriel Securities analyst Jonathan Pritchard does not believe the deal necessarily represents an authoritative stamp of approval on Ocado's model. "We think that the circumstances of the Morrisons deal are unique," he says. "This was a ready-made solution to Morrisons' lack of progress online. The distribution centre and free capacity were available and we think that this, rather than the intellectual property, was at the heart of the decision. The terms, which are highly onerous towards Morrisons, reflect this and we are not sure such terms could be replicated overseas."
For both parties, the deal represents action in a market some fear has already got away from them. Morrisons' arch-rivals Tesco, Sainsbury's and Asda have already built sizeable customer bases online and offer several delivery options and non-food add-ons to keep customers loyal. Ocado's 12% market share, according to Mintel, appears under threat as rivals outstrip its growth and offer popular click-and-collect services.
Catherine Shuttleworth, chief executive of grocery marketer Savvy Marketing, argues the real winner is the customer. "Morrisons' crown jewel has always been its Market Street and its skilled butchers, bakers and fishmongers, and if the positive reactions on its Facebook page are anything to go by, there's a huge appetite from shoppers to have the Market Street experience delivered to their doors."
Morrisons has yet to reveal whether it will charge for the service but delivery options will be a key component to get right and leverage the "second-mover advantage" Philips claims Morrisons has.
The market has waited a long time for Morrisons to get into online grocery. While many baulk at the terms of the deal, it will change the landscape once again and make the grocery sector even more competitive.
THE DEAL IN DETAIL
Morrisons will make a capital payment of up to £170m to Ocado to acquire Dordon and associated mechanical handling equipment, as well as a licence and integration fee.
A further £46m will be invested to expand Dordon in order to accommodate Morrisons' range, integrate with Morrisons' systems and establish a network of delivery spokes.
Morrisons will pay service costs and a contribution to R&D expenditure.
In 2017/18, Morrisons will have to pay 25% of EBIT profit to Ocado.
The deal also makes provision for the joint development of new CFCs as the parties may determine in future. Ocado will receive a share of the positive EBIT of Morrisons.com.
Fulfilment will be from Ocado's Dordon site via a Morrisons liveried fleet.
There is an IT annual fee of 1% of sales to £1bn, which then reduces.
There is a bonus fee of 25% EBIT share for the first 15 years, followed by 10% for a further 10 years - if the EBIT is above 6.6% then profit share increases to 50%.
THE WAITROSE QUESTION
The potential impact of the Morrisons deal on Ocado's supply agreement with Waitrose has been a talking point. Waitrose's supply of own-label and branded products account for about 85% of Ocado's sales and an end to the partnership could severely damage Ocado's retail operation. The 10-year Waitrose deal has a break clause in 2017, or alternatively a £40m fee if either party wants to exit the deal early.
Waitrose says: "We have asked to see the detail of the deal and the operating arrangements. Meanwhile, we have instructed lawyers so that we can get a clear and unequivocal view of the contract and examine what might constitute a breach."
However, even if a breach is not discovered, Shore Capital's Black warns there might have been a "fundamental pollution of the commercial relationship between Ocado and Waitrose".
Waitrose managing director Mark Price states that the retailer has moved to "Defcon 1" in online expansion.
Its new ambition to open a second dark store next spring appears to support the view the partnership might
be doomed.
However, Steiner says the deal is a positive for Waitrose. "We are their largest customer on the planet," he maintains. "The deal is going to strengthen our balance sheet allowing us to improve, attract more customers, accelerate growth, sell more Waitrose groceries and pay them a larger fee.
I think once the dust has settled they might think about it a bit differently."