Former John Lewis online boss Jonathon Brown has helped steady the ship and drive sales at M and M Direct.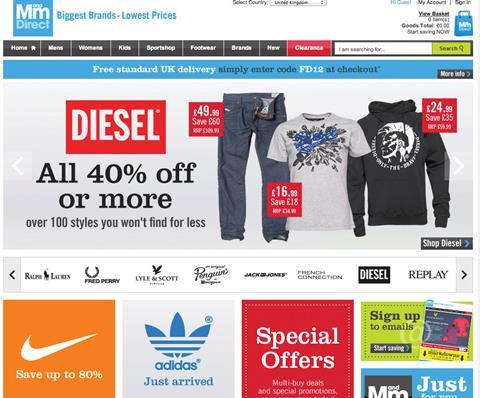 It's been a year since former John Lewis online boss Jonathon Brown was drafted in as chief executive of M and M Direct. He's not only led a relaunch of the website and introduced a mobile site and app, but he has helped deliver a strong financial performance.
Brown joined half way through a year when sales increased 7.4% to £113.4m. Operating profit jumped 66% to £6.4m in the year to February 28, 2013.
Brown's appointment in July last year was hailed as a coup for the discount fashion and sports clothing retailer.
He is considered a big hitter in ecommerce after helping build John Lewis' online arm into one of the most successful in retail. Brown has also worked as director of multichannel at B&Q and has been a regular name in Retail Week's Etail Power List.
Brown joined M and M Direct after a period of financial volatility. The retailer, which sells branded products through its website and a quarterly mail order catalogue, reported that sales growth declined rapidly during the year to February 2011. A year later sales dropped 4.2% and operating profit fell sharply from £9.4m to £3.9m.
To restore growth, M and M Direct restructured its buying teams in April 2011, merging womenswear and kidswear, and Emma Tilby was appointed to lead the new buying division.
A few months later, in September 2011, Steve Robinson, who had steered the group for five years, stepped down as chief executive.
He set up a consultancy and joined B&Q as its customer director before being appointed chief operating officer at upmarket home etailer Achica, which he joins later this month.
M and M Direct was founded in 1987 when sports shop owners Mark Ellis and Martin Churchward teamed up to sell end-of-line clearance products. The founders used adverts in newspapers to sell the goods before launching a catalogue in 1993.
A transactional website followed in 1998. The company quickly made its mark as a sports goods etailer and it wasn't until 2006 that it shifted its attention to fashion and lifestyle, prompting a change in the name of the company from M and M Sports to M and M Direct.
During Robinson's tenure, the etailer, which received investment from US private equity firm TA Associates in 2007, moved even further away from its sports clothing roots and the category accounted for just a quarter of its overall offer, with fashion making up the rest. Now the website offers more than 7,000 product lines and stocks brands such as Diesel, Calvin Klein and Ralph Lauren.
This strategy has helped M and M Direct to occupy a niche position in the online market, but competition in the sector has heated up in recent years. Rival Asos introduced Asos Outlet in 2008, offering discounts of up to 70% on end-of-line and past-season stock while in 2011 TK Maxx started to expand its online offer.
In terms of advertising, M and M Direct prefers to make the most of word of mouth rather than the massive marketing campaigns that some invest in. However, it uses email and SMS to regularly keep in touch with its customers.
In recent years the etailer has turned its gaze overseas, launching a dedicated language site in German in 2010 before rolling out French and Danish language sites in 2011.
Looking ahead, M and M Direct faces challenges including the tough economy and a young fashion sector that remains under pressure.
And while Brown has helped steer the company to growth, the retailer has not reached the heady heights of 2010, when it generated £11.4m in pre-tax profit and reportedly mulled a float.
But although the IPO did not take place, Brown's experience in building up John Lewis' online business could put M and M Direct on the path to a flotation once more.
A good sport
Chief executive Jonathon Brown
Number of employees 600
Sales 2013 £113.4m
Pre-tax profit 2013 £6.4m
Owners Management and TA Associates