The appointment of examiners at B&Q Ireland has cast fresh doubts on the turbulent Irish market but, there are opportunities for growth too.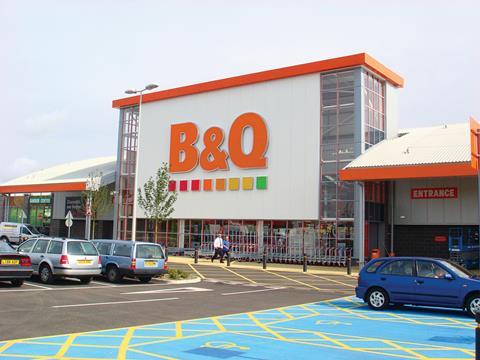 When B&Q Ireland made the shock announcement in January that it was placing its nine stores in the hands of examiners, it shone a spotlight on the state of the Irish retail market.
As two failing stores now face closure, with potentially more to follow, it was a stark reminder that in this tough economic climate even the mighty can fall.
What made the news such a surprise was the name of the retailer. Unlike the majority of Irish retailers - nearly 90% of which are home-grown and employ fewer than 10 people - B&Q Ireland is a big player with backing from an established parent company in the UK.
The problems were partly the result of a punishing economic environment in Ireland, and partly because big-ticket more widely has struggled. The retailer says it will use the examinership process, which is similar to administration, to build a "more sustainable business", and competitor Atlantic Homecare, part of the Crafton Group, went through a similar examinership in 2012.
Espirito Santo analyst Caroline Gulliver said Atlantic's situation added to B&Q's difficulties. "B&Q Ireland's problems have been compounded because one of its main competitors, Atlantic Homecare, went through the examinership process last year and, having renegotiated its rents, has been able to be more aggressive on prices," she says.
She added that while B&Q Ireland cut costs as much as possible, it is forecast to make an operating loss of E10m (£8.7m) in 2012/13, versus a E2m (£1.7m) loss in 2011/12. B&Q, meanwhile, has said it plans to overhaul some leases and close some stores, although trade is continuing in the meantime.
Sharp end of the recession
Independent analyst Nick Bubb says B&Q Ireland's issues lay largely in the timing of its arrival in 2002. He explains: "It took stores at the top of the market and rents are just way too high for what it can bear. Given the Irish housing market, it's not surprising that the DIY players are struggling."
B&Q's problems highlight the difficulties of today's trading conditions. Total retail sales in Ireland are down 30% from their peak in 2008 and consumer confidence remains low.
"Nobody doubts the seriousness that the retail industry faces in this country," says Irish retail industry body Retail Ireland director Stephen Lynam. "50,000 people have lost their jobs in Irish retail - that's one sixth of the overall workforce. Retail is at the sharp end of the recession."
But despite this there are bright spots and, many argue, once-in-a-generation opportunities for property expansion that some retailers are taking advantage of. So are B&Q Ireland's troubles simply a sign of the times, or are there more positives than meet the eye?
To understand what's happening in Ireland, a bit of a history lesson is needed. Around the time that B&Q was taking its first steps in the country, in 2002, one of the most phenomenal booms anywhere in Europe was under way. Without any sense of impending danger, developers built space all over Ireland, and retailers rushed to fill it.
Now, with a property slump in its fifth year and little sign of recovery, the situation has been flipped on its head. The easy credit that drove development has vanished, and much of the appetite from retailers to expand has been suppressed.
One of the big problems now, says Keiron Diamond, head of retail at property agency Knight Frank Ireland, is what happens to leftover space from the peak phase.
He says: "There were too many centres built in the wrong locations and some of them were too big for the demand. Some landlords might have to decide that it isn't feasible to collect the rents that they wanted."
Empty space
If there was too much space for the levels of demand pre-crash, that gap has now turned into a gulf. GeoDirectory, a venture between Irish postal service An Post and Ordnance Survey, compiles data on all commercial and residential property nationwide, including registrations for businesses taking new space. And the figures it has produced are striking. In 2007, just before the property bubble burst, 4,458 new businesses were registered at
commercial property addresses throughout Ireland.
In 2011, this was down by 63%, to 1,661 new openings, and by 2012 the figure had dropped to 1,245 - 73% below pre-crash levels.
And while the figures are for all commercial properties, not just retail, they give a good idea of the level of retail activity.
But focus on individual towns, and the picture is less clear. Take the vacancy rate, which, according to GeoDirectory, stands at 11% nationally. However, a detailed breakdown from property agency CBRE of the 2012 third-quarter figures shows that this varies dramatically from town to town.
Dublin, by far the strongest retail city in Ireland, is well below the national average at 3.8%, while in Athlone - where B&Q is very likely to be closing its store - the rate is an alarming 18.2%.
However, it's not just a case of examining individual towns to find high points. Some retailers are actually expanding in Ireland.
As DFS chief operating officer Jon Massey says: "We wouldn't have gone to Ireland if we didn't think there was some opportunity for us, but we went in the knowledge that it would be challenging."
In fact, almost 10 years to the day after B&Q Ireland opened its doors for the first time, another big-ticket retailer, DFS, made a similar, albeit far more
circumspect, move into Ireland.
With only two stores open after almost a year, and no word from the retailer about more launches, it's been a cautious debut - Massey says the retailer has been deliberately careful.
He adds the boom times were both the start of the problems in Ireland today, but also the root of the opportunities that - for some smart retailers - have emerged.
He says: "From the property perspective, there's been a lot of sub-optimal space around, and while you can still pick up property deals there you have to be discriminating.
"The quality of a lot of the building here leaves us for dead in the UK. It's fantastic. But there isn't the demand for that space and there's an awful lot of vacant space around."
It's not hard to see why expansion is a good move if, as Massey says, companies are in the position to do so.
As is often the case in property, what is bad news for one business is good news for another. While weak sales, low consumer confidence and a high frequency of empty shops are clearly not good things, the latter in particular means that landlords are forced to be more flexible to entice retailers into empty stores and stop tenants leaving.
Figures from CBRE show 2012 was another tough year for landlords, as rents continued to fall. Prime Zone A rents in Dublin, for example, now stand at E4,500 (£3,898) per square metre on Grafton Street, a decline of 55% from their peak of E10,000 (£8,662) in 2008, and the drop has been echoed throughout Ireland.
The trend for falling rents, says Poundland property director Craig Bales, formed a central part of the retailer's decision to create a new fascia, Dealz, which it has expanded in a bid to capitalise on the thirst for discounts in the Irish market.
"It's definitely a tenant's market," Bales says. "I suspect it would have been difficult for us to acquire stores before. Some of the rents being paid were incredible. They've come down and I still think they're going to fall."
In less than 18 months of opening, Dealz has established 26 stores in Ireland with an ambitious target of 50 still in its sights. This, says Diamond, is part of a trend throughout Ireland of discounters turning the economic and property climate to their benefit. He says: "People in the value and discount retail sectors have a large advantage at the moment. Retailers like Lidl, Aldi and discount store Euro 2 are on the expansion trail."
Research pays off
Although Poundland is still pressing ahead steadily - the most recent opening was in January in Monaghan - Bales says there are likely to be challenges in finding the perfect space because of the endemic problems in the development sector.
He says: "We're happy with the way it's gone. We're about half way there. Clearly the next 25 will take longer than the first 25 because there are fewer opportunities now. In the UK, landlords combine units and do more asset management, which involves spending cash, but in Ireland there isn't the cash there to create that.
"It's a bit stagnant and I think it's going to take years to unravel."
Dealz and DFS both show that there cab be less value in dwelling on the big picture than there is in careful research into opportunities on the micro level.
Diamond says that is the key for retailers now, especially because landlords have to renegotiate leases to such an extent.
He explains: "I've no doubt there will be more failures but, while some people are struggling, there are opportunities for others. At the moment we're renegotiating rents from 2005/6. There have been a lot of new entrants into the market taking advantage of the situation. It's both good and bad."
While he remains cautious, Diamond says there are signs of movement: "In terms of new space, the last four months of 2012 were the busiest four months in many years, and we've been busy in February as well."
On the mend
Not only are there some promising signs from the market for some retailers, but other retail groups have also launched in the country. There are even signs, says GeoDirectory chief executive Dara Keogh, of glimmers of hope in the residential market, which would inevitably boost consumer spend.
He says: "It looks like we're at the bottom of the sharp, terrible drop we had in residential and hopefully it will be the start of the recovery. It's starting to turn. Banks say they are going to do more lending for mortgages in 2013."
Nobody is pinning their hopes on one easy solution, whether it be the banks starting to lend again, a return of retailer demand, or even the addition of a few big-name brands into the market. Even for the retailers that are in a position to take new stores, expansion could be dangerous without the right homework.
As Massey says: "Getting the right deal in the right location is harder, if anything, given how much there is. If retailers don't do their research they will get their fingers burned."
But as retailers from Dealz to Abercrombie & Fitch have demonstrated, with the right preparation - and a clear understanding of the risks - backing away is not the right answer for everyone.
New opportunities - Big names head to Ireland
It hasn't all been bad news in Ireland - several big names have opened in the country over the past couple of years.
Anybody looking at shopping centre Dundrum Town Centre for instance, six miles from Dublin city centre, would hardly know that retailing was having such a hard time. On top of its big-name retail offer, which includes Hamleys, Harvey Nichols and House of Fraser, the centre had a coup in July 2011 with the opening of the first Hollister store in Ireland.
In November last year, Dublin added an illustrious name to its offer, ultra-fashionable clothing brand Abercrombie & Fitch. The US retailer opened a store on Dame Street in the city centre, in a prime location close to the capital's prestigious College Green.
And, in November 2010, the Jervis Shopping Centre in Dublin scored some major points with the addition of Forever 21. It was the first store the US retailer had opened in Europe.
| Empty shops by location | |
| --- | --- |
| | |
| Town | Vacancy Rate % |
| Athlone | 18.2 |
| Limerick | 16.3 |
| Cork | 13 |
| Sligo | 12.5 |
| Kilkenny | 6.6 |
| Dublin | 3.8 |
| Galway | 2.8 |
| Killarney | 2 |