Despite 25 years in the UK, the US fashion giant has struggled to find its gap in the market.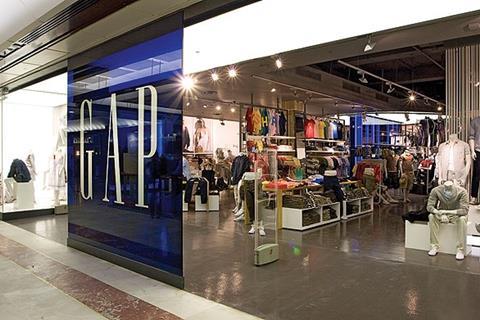 Gap UK may have pulled itself into profit in the past two years, but the fashion giant still faces problems as it struggles to create an attractive proposition here.
Gap has grown into an apparel powerhouse in its home country, the US. It operates 2,620 stores there across three fascias – Gap, modern casualwear business Banana Republic and its value familywear group Old Navy – after Donald Fisher launched the group in 1969.
But the casualwear giant has had a tough time in the UK and Europe. It entered the UK in 1987 and grew quickly, reaching its peak of 168 shops in 2001, and extending across its sub-divisions Gap Kids and Baby Gap.
But as it expanded, the retailer seemed to lose its edge globally, reflected in a share price plummet in 2001. The retailer had to launch a $1bn (£624.3m) bond issue to bolster its finances in early 2002. By mid-2002 Gap had posted 28 months of falling like-for-like sales.
With the faltering group performance came a change in management. Mickey Drexler, who had effectively headed Gap since 1983 and been group chief executive since 1995, left in 2002. Paul Pressler, who was at Disney previously, took on the top job. Pressler focused on cost reductions and operating efficiencies but the retailer continued to struggle.
Pressler stepped down in 2007 and was replaced as chief executive by Glenn Murphy, former chairman and chief executive of Shoppers Drug Mart in Canada.
Gap's fall from grace was blamed on its aggressive focus on growth, and some observers criticised it for taking its eye off the ball on product and stores.
The main problem was the fashionability of the product. Gap's initial reaction was to scrap its moves towards higher fashion lines and focus on the classics it was known for such as jeans, chinos and white shirts. But the retailer struggled to turn its prospects around quickly because of its size.
UK store numbers fell to 130 in 2005, but have been slowly edging up since, and the UK remains Gap's largest international market with 144 Gap stores plus eight Banana Republic shops. Gap has 3,250 stores globally.
But while the UK may be its biggest market outside North America, it isn't its easiest. Fierce competition in the mid-market has made life tough for Gap in the UK.
It faced the rise of value retailers such as Matalan and Primark and discounters including TK Maxx, as well as more established players Marks & Spencer, Next, Topshop, H&M, River Island and New Look.
The retailer continues to restructure operations in its fightback. Just last month, British-born international president Stephen Sunnucks was promoted to global president as part of another restructure that will combine its North American, international, online, outlet and franchise divisions under a single global executive for each of its Gap, Banana Republic and Old Navy brands from the beginning of its new financial year in February.
Profit has improved in recent years. After reporting its worst performance to date in the UK in 2009 – it posted a pre-tax loss of £8.4m, down from a £5.7m loss the previous year – it pulled itself back into the black in 2011, posting a pre-tax profit – of £726,000 – for the first time since results were broken out for the UK holding company in 2006-07.
Gap's online business has grown substantially following the launch of dedicated UK transactional sites in 2010. Global online sales reached £940m in 2011/12, accounting for just over 10% of group sales. By 2013, it hopes to achieve a quarter of its net sales through overseas and online.
But, despite the restructures and profit generation, Gap is continuing to struggle in the UK. In its last set of accounts for the UK retail subsidiary in 2012, overall sales had slumped 7.2% and like-for-like sales plummeted 10%. Pre-tax profit for the UK holding company slipped to £618,000, slightly down on the previous year. The retailer still has much to do if it is to close the gap between it and its rivals.
Who's in charge?
Chairman and chief executive Glenn Murphy
Global president, Gap Stephen Sunnucks
Global president, Banana Republic Jack Calhoun