American Eagle has launched its ecommerce site in the UK as it seeks to test demand and identify the best locations for a store roll-out.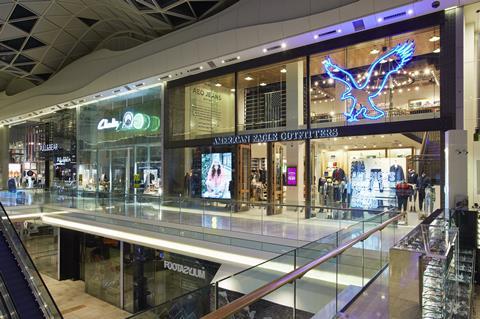 The US-based retailer, which currently has three stores in the UK, launched the responsive site in the UK and the online debut represents the first time the fashion specialist has rolled out a responsive website across any of its international markets.
American Eagle Outfitters global brand president Chad Kessler told Retail Week the website will be used to "test and understand the demographics in the UK" as it seeks to decide where to locate more stores.
Kessler added the retailer "feels good about the three stores" and is seeing great conversion at them.
American Eagle expects a turnover of over $15m (£9.78m) in the UK when it annualises its launch in November.
The retailer currently makes 15-16% of total sales from its web and catalogue sales, but Kessler believes a greater proportion of sales in the UK could come from the web due to its relatively small store footprint.
American Eagle is targeting 20 to 30 stores in the UK. Its three current stores are currently located in Westfield Stratford City, Westfield London and Bluewater.
Although all the UK stores are in shopping centres, American Eagle has not ruled out high street stores and would consider launching in city centres if the right location arises.
The retailer already has high street stores in other markets, including four in Manhattan.
American Eagle Outfitters could also launch standalone stores in the UK for its Aerie lingerie retail brand.
It currently has a shop-in-shop for Aerie in one of its Westfield stores, but could bring a trial of a 2,000 sq ft Aerie store format to the UK.
It has trialled standalone Aerie store formats in other markets, including two in Israel.