It seems bizarre to even consider describing the full-year results of one of Britain's largest retailers as a sideshow.
But when Sainsbury's unveils its prelims next week, that's exactly what they will be.
The grocer's under-pressure boss Mike Coupe will, as usual, take the lead role when he addresses analysts and the media on May 1.
The numbers he reveals, however, will be overshadowed by some of the other key protagonists and plot twists that have come together to make the current chapter of the Sainsbury's story so compelling.
"Sainsbury's was the grocer that previously coped best with the onslaught of the discounters"
Enter: the Competition and Markets Authority (CMA). The watchdog this morning put the kibosh on Sainsbury's proposed merger with Asda, less than a week before Coupe steps under the City spotlight. And, despite the admirable work he has overseen during his time in charge at 33 Holborn, the CMA's verdict has left him in an increasingly vulnerable position.
Coupe, his finance boss Kevin O'Byrne and Judith McKenna, the international boss of Asda's owner Walmart, had all insisted that the deal was imperative if the businesses were to compete more effectively against the rise of the discounters and the shift to shopping online.
The CMA, though, has blocked the deal in its entirety, concluding that there was "no effective way of addressing our concerns" around the potential for the enlarged business to increase prices and reduce quality for customers – a verdict that flies in the face of the 10% drop in prices the two grocers have publicly pledged.
Indeed, Coupe raged this morning that the CMA was "effectively taking £1bn out of customers' pockets" with its decision.
Ugly backdrop
He and his senior leadership team have consistently refuted the suggestion that they had been distracted by the merger. But there is no escaping the fact that Sainsbury's core grocery business has suffered over the past year.
Despite the insistence of management, some stores continue to be plagued by availability problems, while rivals including Tesco, Morrisons, Aldi and Lidl are closing the quality gap. Sales, according to Kantar data, are suffering as a result.
In the 12 weeks to March 24, Sainsbury's sales fell 1.8% as it surrendered its berth as Britain's second largest supermarket, ironically, to Asda.
At Argos, which has otherwise proved an astute acquisition, margins will continue to come under pressure amid what is a challenging general merchandise market.
Analysts still expect Sainsbury's to deliver a pre-tax profit somewhere in the range of £610m and £636m next week – growth of around 5%. But uncertainty over what comes next for Sainsbury's will hang heavy over the grocer and drag on a share price that has already tumbled more than 25% to around 227p since its last full-year update – and will almost certainly fall further today.
Prior to this morning's CMA verdict and next week's results, broker Bernstein slashed its target price from 310p to 250p, citing what it describes as "an ugly backdrop" for JS.
Question time
New chair Martin Scicluna, the newest addition to the Sainsbury's cast having only taken the hot seat last month, will have plenty on his plate as he bids to navigate that landscape.
But Scicluna will be mindful that Sainsbury's was the grocer that previously coped best with the onslaught of the discounters, proving an impressively resilient competitor.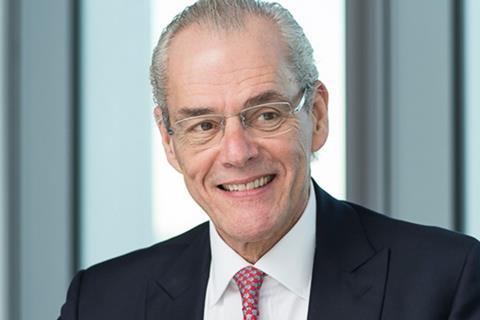 According to Bernstein, Sainsbury's like-for-likes held firm between 2012 and 2017, remaining flat over those six years. Same-store sales at Asda and Morrisons tumbled 10% and 9% respectively during that period, while Tesco's were down 3%.
Although it had its back firmly to the wall for much of that time, Sainsbury's also demonstrated the foresight to acquire Argos, quickly integrate the business and experiment with its supermarket format and proposition in locations such as Nine Elms and Selly Oak.
Driving that change alongside Coupe has been a strong supporting cast that would be the envy of retailers up and down the country – think O'Byrne, Argos boss John Rogers, food supremo Paul Mills-Hicks, chief digital officer Clodagh Moriarty and commercial director James Brown.
Together, they had formed a formidable force, one which held firm in the face of grocery retail's fast-moving dynamics.
But with new challenges ahead and some big questions already being asked, Scicluna has some decisions to make.
How will Sainsbury's narrow the price differential to Aldi and Lidl without the buying power and synergies of the Asda deal to fund further price investment?
What does the collapse of the Asda merger mean for Sainsbury's strategy?
Can it restore the reputation for quality and high store standards that have gone awry over the past year?
What should it do with a banking arm that remains a drag on cash?
And, crucially, can the current Sainsbury's team come up with the answers to those questions?
Curtain call?
With so much to tackle, Bernstein analyst Bruno Monteyne suggests it is "unjustified but not impossible" that Scicluna will want to bring in a new chief executive to find the solutions.
As one former grocery executive told Retail Week in the wake of the CMA's provisional findings in February, Scicluna will have to move quickly to "re-energise" a "static" leadership team.
Sainsbury's executives deserve huge credit for the multichannel, forward-thinking business they have moulded during Coupe's tenure. But for all their past success, Scicluna must focus on a future that will now need to be fashioned without Asda by its side.
For some at Sainsbury's, that means next week's sideshow might be their final act.
Luke Tugby is deputy editor at Retail Week.
Analysis: What next for Sainsbury's and Asda?
1

2

3

4

5

Currently reading

Opinion: Sainsbury's results could be final act for Coupe and Co

6