It's been a roller-coaster year for retail, with many having to pull out all the stops to battle tough trading. Rebecca Thomson and Charlotte Hardie look back over the highs and lows.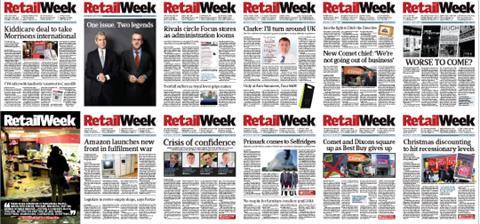 On paper, it's been a terrible year for retail. Administrations, grim sales figures, plummeting consumer confidence, inflation and cost pressures all paint a miserable picture. And then to cap it all off retailers had to contend with the violence and looting during the riots that shocked the country in August.
But don't stop reading. If you look beyond the negative headlines, there have also been many achievements among retail businesses that have shown innovative thinking in adapting to changing consumer demand. And that applies to smaller, emerging brands as much as it does to the big boys.
Waitrose and Morrisons launched convenience formats, Sainsbury's has plans to launch a standalone pharmacy, and retailers of all shapes and sizes are embracing mobile commerce, social commerce and multichannel with gusto. The difficult backdrop is not holding retailers back.
Size matters
The hunt for growth, though, has proved challenging, and many of the answers have come from international markets. Every month there have been more stories of retailers embarking on store openings or web launches in new territories – be it Marks & Spencer re-entering France with its Paris store or Asos targeting Italy, Spain and Australia.
Positioning for longer-term growth has also been a strong focus this year – and 2011 was the year that retailers began to implement ever more robust multichannel strategies. Retailers have also shown their ability in making multichannel work for them. House of Fraser's new click-and-collect format heralds a new age where department stores aren't necessarily all that big, and Wickes' new smaller stores – well positioned for click-and-collect – shows that such channels are not restricted to certain categories. It has been a fascinating insight into how retail continues to evolve alongside technological developments and changing shopper habits.
Multichannel isn't just for bricks-and-mortar businesses either. In 2011 etailers have muscled in on the act, and the results have been exciting. It's almost easy to lose count of the number that have embarked or are in the planning stages of a physical presence in some guise or other. N Brown, Kiddicare, Amazon and Wiggle are among them. Net-a-Porter, meanwhile, used augmented reality to great effect in June with images of product hung in a store window. Shoppers could then take a picture of a product with a phone and be directed to the online store. Ocado's shopping wall in London gave the etailer an eye-catching presence in a major shopping centre, and eBay's December pop-up shop allowed shoppers to use their mobiles to order goods.
Looking for a promotion
Ultimately, the retailers that have flourished are those that have focused on getting the operational details right, and that provided customers with something no one else could.
It's also been the year of an unprecedented level of promotions and price wars, which may not always have proved popular with suppliers, but being price competitive has been crucial. It's not just about price, though. Great product and great service are in evidence everywhere, helping to keep reticent customers spending.
A tough market might mean problems are exacerbated for some but it brings out the best in others. It may have been a difficult time but the retail industry has proven resilient, producing innovation and – for a handful – strong performances even as the market falters.
Despite the gloom, there was plenty of good news too. Next year will be difficult, but if 2011 is anything to go by, it will also continue to draw out the best in UK retailing.