We are the voice of the UK retail industry

Firmly at the heart of the industry, Retail Week is the most trusted source of business intelligence and networking available for today's retailers
We deliver critical analysis of the sector's performance while providing a platform to defend the interests and celebrate the successes of the retail industry. With a team membership to our service we ensure you and your team have the knowledge to make informed decisions and ultimately drive your business forward with confidence.
As the definitive source for the UK retail sector we help you:
Make better, confident and informed business decisions
24/7 access to over 40,000 articles on
retail-week.com covering the entire industry
In-depth analysis examining industry developments
Reduce time spend searching
for information
The week's biggest news in one place
Breaking news alerts and updates by sector direct to your inbox
Improve your knowledge and understanding of the most crucial retail data, analysis and trends
All the latest innovation and trends in a snapshot
More than 20 special reports in association with some of the biggest names in the industry
Understand what your competitors
are aiming to achieve
Information on the biggest retailers including financial data, key people, stores, employees, strategic direction and ecommerce operations
Exclusive retail content delivered across different platforms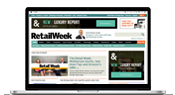 Online
Hear from the leaders of the industry and always make sure your team are fully informed with access to the latest news anytime, anywhere.

Over 70% of all our content is delivered online first, if not exclusively. Only on Retail Week you'll find over 40,000 articles covering every sector of the UK retail industry.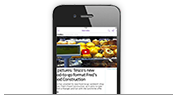 App
Be confident you and your colleagues stay connected to the industry and always have access to the right information.

The Retail Week App gives you access to the latest developments, wherever you go, ensuring you always have the most up-to-date information to hand. The app is available on both iOS and Android, tablet and mobile devices.