Latest news, insight and analysis on Dixons Retail - including Currys and PC World
Dixons Retail is the largest UK electricals retailer. UK sales peaked at £4.8bn in 2006, but had fallen to £3.8bn in 2012 out of group total sales of £8.2bn. Dixons trades from a reduced 590 UK outlets in 2012, primarily as Currys and PC World plus Dixons at airports and online and with a new Black fascia being trialled.
Health is expected to be popular this Christmas as retailers forecast fitness-tracking technology and blenders to top wish lists.
John Lewis's 150th anniversary serves as a reminder of the importance of outstanding leadership, continuity and commitment to values at a time when the frequency of retail management changes is beginning to rival that of football managers.
Full company profile for Debenhams, including: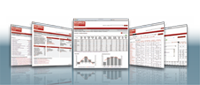 Powered by: