Latest news, insight and analysis on Dixons Retail - including Currys and PC World
Dixons Retail is the largest UK electricals retailer. UK sales peaked at £4.8bn in 2006, but had fallen to £3.8bn in 2012 out of group total sales of £8.2bn. Dixons trades from a reduced 590 UK outlets in 2012, primarily as Currys and PC World plus Dixons at airports and online and with a new Black fascia being trialled.
Health is expected to be popular this Christmas as retailers forecast fitness-tracking technology and blenders to top wish lists.
The merger between Dixons and Carphone Warehouse could prove one of the most significant chapters in the journey to the connected world.
Full company profile for Debenhams, including: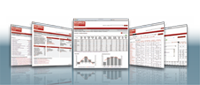 Powered by: