Latest news, insight and analysis on Dixons Retail - including Currys and PC World
Dixons Retail is the largest UK electricals retailer. UK sales peaked at £4.8bn in 2006, but had fallen to £3.8bn in 2012 out of group total sales of £8.2bn. Dixons trades from a reduced 590 UK outlets in 2012, primarily as Currys and PC World plus Dixons at airports and online and with a new Black fascia being trialled.
Carphone Warehouse and Dixons yesterday revealed they are in early stage talks over a merger. Retail Week takes a look at the benefits for Dixons.
The internet of things - the idea that everyday physical objects are digitally connected, share data and are able to identify themselves to other devices - remains a nebulous concept to most of us.
Full company profile for Debenhams, including: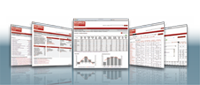 Powered by: