Latest news, insight and analysis on Dixons Retail - including Currys and PC World
Dixons Retail is the largest UK electricals retailer. UK sales peaked at £4.8bn in 2006, but had fallen to £3.8bn in 2012 out of group total sales of £8.2bn. Dixons trades from a reduced 590 UK outlets in 2012, primarily as Currys and PC World plus Dixons at airports and online and with a new Black fascia being trialled.
The Retail Week Supply Chain Summit on May 22 and 23 will focus on cutting-edge strategies and best practice – factors that Dixons' logistics head says are finally being recognised by retail bosses
The time when all of our high streets looked the same may be at an end, but there are still some die-hards.
Full company profile for Debenhams, including: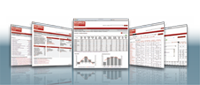 Powered by: