Latest news, insight and analysis on New Look
New Look is a mass-market fashion retailer. It trades nationally in the UK, with a slightly reduced 600 stores in 2012 and has a significant international presence. The current focus is on turning around the core UK womenswear offer. Group sales declined to £1,447.5m in 2011/12, with UK sales down 4.7% at £1,061.2m. Operating margins continued to decline to 3.4% – a very low level for New Look.
The New Look chairman is known for tackling turnarounds and is making good progress at the value fashion group.
With most UK retailers talking about multichannel at every opportunity, you can bet that terms like 'e-tail' and 'click-and-collect' will continue to be popular buzzwords in 2013.
Full company profile for New Look, including: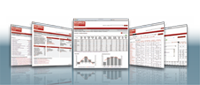 Powered by: